Please always visit our m

ain pages
http://bobbyhebb.com
http://sunnythesong.com
YourNews: Maryville College Jazz Band will present spring concert
http://www.knoxnews.com/news/2013/apr/24/yournews-maryville-college-jazz-band-will-present-/
Directed by composer, educator and pianist Dr. Bill Swann, who is also chair of the Maryville College Division of Fine Arts, the band will perform "Sister Sadie" by Horace Silver; "Sunny" by Bobby Hebb; "Philadelphia Mambo" by Tito Puente; "Maiden Voyage" by Herbie Hancock; "Milestones" by Miles Davis; "Cariba" by Wes Montgomery; "Back at the Chicken Shack" by Jimmy Smith; and "Straight Life" by Freddie Hubbard.
Thank you, Dr. Swann
Dr. William Swann
Associate Professor of Music, Chair, Division of Fine Arts
Education: B.M., M.M., University of Tennessee, Knoxville; D.A., University of Mississippi
Clayton Center for the Arts, Main Building 303/305

http://www.maryvillecollege.edu/academics/divisions/finearts/faculty/
_____________________________________________
LISTEN TO NANCY WILSON SING "SUNNY"
https://www.youtube.com/watch?v=htLFJSLcoCg
ALBUM: Lush Life
Side 2, Track #4
Arranged and Conducted by Billy May
Produced b

y David Cavanaugh
Capitol Records, #

ST-2757
Liner note
s
This is an album of songs that Nancy wanted to sing...this is an album of songs that had to be sung by Nancy. Theya re outstanding creations, some familiar, some new, by a

ros

ter of the very finest songwriters of our day...written to tell the stories of the alone and lonely.

There are perhaps no other songs as beautiful as these are when they're sung by one of the very few people who can sing them superbly. When they're sung by Nancy. As Nancy sings them here...simply...with flawless artistry...backed by rich string orchestras conducted by Billy May, Oliver Nelson, and Sid Feller. An album to be listened to and treasured now...and today..

.and tomorrow...and forever.
_______________________________________________
Listen here: https://www.youtube.com/watch?v=w9i83No7dFo
Picked up a copy of Nancy Wilson's LUSH LIFE (which includes "Sunny", of course, arranged and conducted by Billy May) yesterday at a yard sale in Medford with thousands of vinyl discs. Also picked up the Frank Sinatra version of "Sunny" on the Francis A

and Edward K (Frank and the Duke) LP - arranged by Billy May and produced by Sonny Burke!
Vinyl appears to be back!
https://www.youtube.com/watch?v=TkzjbY5PWzk
Reprise

FS 1024
Produced by Sonny Burke
Arranged by Billy May
Engineer Lee Herschber

g
Liner Notes by Stan Cornyn
"Sunny" 4:00 Written by Bobby Hebb
AFTER ALL THESE YEARS
Francis Albert Sinatra
conjoins with
Edward Kennedy Ellington
the best moments on the album fulfill all of the duo's promise. All eight songs are slow numbers, which brings out
Sinatra
's romantic side. "Indian Summer" is a particular standout, with a sensual vocal and a breathtaking solo from saxophonist
Johnny Hodges
.
http://www.allmusic.com/album/francis-a-sinatra-edward-k-ellington-mw0000198867
W

ikipedia
Francis A. & Edward K.
is a 1968
studio album
by
Frank Sinatra
with
Duke Ellington
and his
big band
.
This was the first time that Sinatra had worked with Ellington and the sessions were finished on Sinatra's fifty second birthday.
http://en.wikipedia.org/wiki/Francis_A._%26_Edward_K.
_________________________________________________
LUSH LIFE, NANCY WIL
SON
We'll look into the new reissue

KEY FACT: BILLY MAY arranged both the Nancy Wilson and the Sinatra/Duke versions of "Sunny".
_____________________________________








Michael Cuscuna - Reissue Producer
http://www.ejazzlines.com/LUSH-LIFE-p15316.html
LUSH LIFE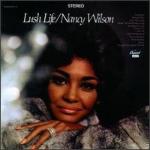 BLUE NOTE 32745
Free Again
You've Changed
Only the Young
Lush Life
Do You Know Why [#]
Midnight Sun
When the World Was Young
River Shallow
(I Stayed) Too Long at the Fair
Sunny (Bobby Hebb)
The Right to Love (Reflections)
Over the Weekend
Abe Most - Clarinet, Flute, Flute (Alto), Flute (Bass)
Alfred Lustgarten - Violin
Anatol Kaminsky - Violin
Ann Mason Stockton - Harp
Armand Kaproff - Cello, Violin
Betty Marks - Violin
Billy May - Arranger
Bob Hardaway - Clarinet, Clarinet (Bass), Flute, Flute (Alto), French Horn
Buster Williams - Bass
Carl LaMagna - Violin
Catherine Gotthoffer - Harp
Dan Luse - Violin
David Cavanaugh - Producer
Donn Trenner - Piano
Edward Bergman - Violin
Emil Briano - Violin
Erno Neufeld - Violin
Frederick Seykora - Cello
Gerald Vinci - Violin
Harry Bluestone - Violin
Harry Klee - Flute, Flute (Alto), Flute (Bass)
Henry Sigismonti - French Horn
Jacques Gasselin - Violin
James Gavin - Liner Notes
James Getzoff - Violin
James M. McGee - French Horn
Jeff Rach - Remixing
John Collins - Guitar
John DeVoogdt - Violin
Justin DiTullio - Cello
Justin Gordon - Clarinet, Clarinet (Bass), Flute, Flute (Alto), Flute (Bass)
Larry Bunker - Mallets, Percussion, Tympani [Timpani]
Louis Kaufman - Violin
Marshall Sosson - Violin
Michael Cuscuna - Reissue Producer
Mischa Russell - Violin
Nancy Wilson - Vocals
Nathan Gershman - Cello
Nathan Kaproff - Violin
Oliver Nelson - Arranger
Patrick Roques - Reissue Design
Phil Teele - Trombone
Raphael Kramer - Cello
Robert Knight - Trombone
Shelly Manne - Drums
Sid Feller - Arranger
Ted Nash - Clarinet, Flute
Victor Arno - Violin
Victor Feldman - Mallets, Percussion
Vincent DeRosa - French Horn
William Hinshaw - French Horn
ALLMUSIC.

COM/

REVIEW BY NICK DEDENA
Nancy Wilson
was one of the few jazz-based pop singers of the 1960s who was able to navigate that decade's rock & roll-crazed waters and stay on top of the single and album charts. While her natural physical beauty certainly didn't hurt her career, it was probably her honest feel for soul and the blues, as well as jazz, that had her riding high during a time when so many of her peers were being dropped by the major labels or moving to Europe.
Lush Life
follows
Wilson
's winning formula of combining jazz and adult pop
http://www.allmusic.com/album/lush-life-mw0000176190
_____________________________________________
Our Top Ten for April 29, 2013
Connie Francis Found!
Thanks to Roger Turner who sent us an entire list of Connie's appearances on Ed Sullivan

from 1967.
Roger write

s: "

The reason that all of Connie's tracks are off YOUTUBE is that she is going to compile a DVD of ALL her appearances on Ed Sullivan."
http://conniefrancis.com