Bobby Hebb update! May 3, 2010

---

Bobby Hebb is hoping to have completed sufficient work on his new CD, Bobby Hebb Live, so that he can attend the ROCK CON - Weekend of 100 Rock Stars - this July and August at the Meadowlands in New Jersey.

Check out Clay Cole's site on the Rock Con 2010 at Meadowlands in New Jersey
http://www.claycoleshow.com/Endzone.html


---


Watch this site for more updates and watch http://bobbyhebb.com for more details as well.


Source: Dassinger PR
ROCK CON: WEEKEND OF A 100 ROCK STARS – TICKETS ON SALE
MEADOWLANDS SHERATON JULY 30 – AUGUST 1, 2010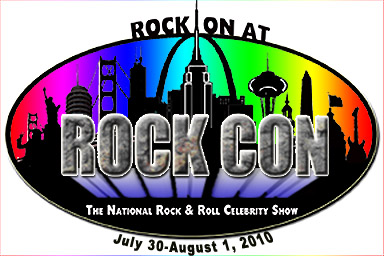 The three-day fan fest, Rock Con: "Weekend Of A 100 Rock Stars" is turning into one of summer 2010's most anticipated music events. Tickets for the 3-day show (July 30 – Aug. 1st ) at the Meadowlands Sheraton in E. Rutherford, NJ are modestly priced on a daily basis and there are special "Silver Record" discounts available now in regards to entire weekend packages – rock@nationalrockcon.com (203-795-4737).
Advanced tickets for the shows are as follows (vendor room and guest rooms close at
10 PM on Friday and 8 PM on Saturday and Sunday):
Friday, July 30 – 6-10 PM $15.00 VIP early bird admission $25.00*
9 -10 PM Exclusive champagne toast and
Rock-social charity benefit $75.00
Saturday, July 31 – 1-10 PM $25.00 VIP early bird admission $35.00*
Sunday, Aug. 1 – 1-9 PM $25.00 VIP early bird admission $35.00*
Advanced discounted package – save $30.00 – basic 3-day weekend pass - $55.00
*VIP early bird admission entitles the entrant a "first come-first serve stature"
in regards to autograph lines, guest access, exhibits and vendors
The current "Rock Guest List" includes some of rock's great voices, instrumentalists, one hit wonders, TV personalities and radio disc jocks. This is a partial list of confirmed "rock stars" attending "Weekend Of A 100 Rock Stars" in alphabetical order:
Davie Allen & The Arrows – classic instrumentals and soundtracks – "The Wild Angels"
Mary Balin – vocals (along with Grace Slick) in Jefferson Airplane – Jefferson Starship
Sid Bernstein – legendary rock impresario, manager and promoter
Beverly Bremers – hit single "Don't Say You Don't Remember Me" 1972
Pete Bremy – Vanilla Fudge – Cactus (bassist) – originally from Paterson, NJ
Glen Burtnik – Electric Light Orchestra – Styx – member of LaBamba And The Hubcaps
Freddie Cannon – hit single "Palisade Park" 1962 (written by Chuck Barris)
Kristen Capolino – 19 year old singer/songwriter/guitarist – "All That I Am"
Peppy Castro – Blues Magoos vocals and guitar wiz
Clay Cole – The Clay Cole Show (1959-68) – the rock and roll studio dance TV show
John Ford Coley – hit single "I'd Really Like To See You Tonight" 1976
Clarence Collins – Little Anthony & The Imperials – 2009 Rock HOF inductee
Gene Cornish – The Rascals (guitarist) -1997 Rock HOF inductee
Ron Dante – The Cuff Links – The Archies lead singer – #1 hit in 1969 with "Sugar"
Dinky Dawson – rock's most famous sound man – The Beatles, Led Zep, Pink Floyd
Pat Dinizio & The Smithereens – the NJ band posted "Rock Con" on their site recently
Walter Egan – hit single "Magnet And Steel" 1978 – a gold record went to #8
Fanny – original "mothers of chick rock" 1970-75 – WB Records
Dennis Ferrante – recording engineer and Grammy winner 2000
John Ford – The Strawbs – joined in 1970 adding his percussive style to the band
Pete Fornatale – WFMU – WNEW-FM radio personality – "Mixed Bag" radio specials
Robert Gordon – hit singles "My Gal Is Red Hot" – "It's Only Make Believe" 1976-78
"Little Anthony" Gourdine – Little Anthony & The Imperials – 2009 Rock HOF inductee
Gerrit Graham – "Beef" in "Phantom Of The Paradise" – co-writes with Bob Weir
Barbara Harris – hit single w/The Toys "Lover's Concerto" 1965 went international
Greg Hawkes – The Cars (keyboards) was the backbone of the quirky group from Boston
Pat Horgan – Thunder Road's lead singer/guitarist – played with the Talking Heads
John Idan – The Yardbirds – 1992 Rock HOF inductee – rejoined in 1994 as lead vocalist
Tommy James & The Shondells – multiple hits – "Hanky Panky" 1966 (14 Top 10 hits)
Jay & The Americans – multiple hits including "She Cried" 1963 (12 Top 10 hits)
Eddie Kelly – American Bandstand the regular everyone remembers – late '50s-'60s
Bruce Kulich – Kiss 1984-96– joined Grand Funk Railroad 2001
Bryan Laye – "Tangerine Lane" 2009 LP – recently recorded with Dave Mason
Ian Lloyd – Stories – "Brother Louie" 1971 – co-founded with Michael Brown/The Left Bank "Walk Away Renee" fame
Vince Martel – Vanilla Fudge's lead guitarist – born in the Bronx, toured with Hendrix
Spanky McFarlane – Spanky & Our Gang – Mamas & Papas vocalist extraordinaire
Ian Mitchell – Bay City Rollers 1976 – "Saturday Night" 1976
Rick Mullen – Commander Cody – Don McLean – Van Morrison – Savoy Brown
Alannah Myles – hit single "Black Velvet' 1989 – still a haunting radio song today
David Peel – David Peel And The Lower East Side – legendary New York band
Andy Pratt – hit single "Avenging Annie"1973 and more than a one-hit wonder
Paul Peterson – hit single "My Dad" 1962 – starred in the "Donna Reed Show" 1958-66
Louise Robey – hit single "One Night In Bangkok" 1984 (written by ABBA)
Harriet Schock – wrote the hit single "No Way To Treat A Lady" 1975
Nelson Slater – "Wild Angel" LP produced by Lou Reed is a collaboration to note
Earl Slick – David Bowie – John Lennon (featured guitarist) – journeyman
Ronnie Spector – multiple hits including "Be My Baby" 1963 – 2007 Rock HOF inductee
Tom "T-Bone" Stankus – Dr. Demento – the comedic "Existential Blues" 1980
Kasim Sultan – Utopia – Meat Loaf – bassist and lead singer – journeyman
Terry Sylvester – The Hollies – 2010 Rock HOF inductee – replaced Graham Nash
Livingston Taylor – hit single "I Will Be In Love With You" 1970 – brother of James
The Angels – hit single "My Boyfriend's Back" 1963 – they're featured in "Jersey Boys"
The Delicates – "Submarine Race Watcher's Theme" and grew up in Belleville, NJ
The Fifth Estate – hit single "Ding Dong The Witch Is Dead" 1967 – an international hit
The 1910 Fruitgum Company – "Simon Says" 1968 went to #2 – pre-British invasion
The Human Beinz – hit single "Nobody But Me" 1967 – featured in 2004 "Kill Bill" film
The Rip Chords – hit single "Hey Little Cobra" 1964 – worked with Terry Melcher
The Soul Survivors – "Expressway To Your Heart" 1967 sold a million copies
Jonathan Tiersten – Jonathan Tiersten And The Ten Tiers – Queens-own born and bred, Jonathan is a singer/musician/actor (hint: name "Ricky" mean anything?) now leading his own band, Ten Tiers.
Dean Torrence – Jan And Dean – pre-dated The Beach Boys 1963-64 with hits and tragedy – "Dead Man's Curve"
Tuff Darts – Tommy Frenzy – John DeSalvo – J, Morrison are back
Hilton Valentine – The Animals (guitarist) – 1994 Rock HOF created a riff copied still
Gary Von Scyoc – Elephant's Memory – John Lennon's band – featured on Lennon's "Live in New York" and The Mike Douglas Show w/John and Yoko
Jane Weidlin – The Go-Go's – "Our Lips Are Sealed" 1982 – she wrote the song, too
Shaun Weiss – "Elvis" on Pee Wee's Playhouse – "Greg Goldberg" in Mighty Ducks – his father was the accountant for The Beatles, Nat Weiss
Johnny Winter w/guitarist Paul Nelson – two legendary guitarists – "Live/Johnny Winter And…" (1971) is Johnny's best and Grammy nominated "I'm A Bluesman" which features Paul Nelson, is his best – meet them in person.